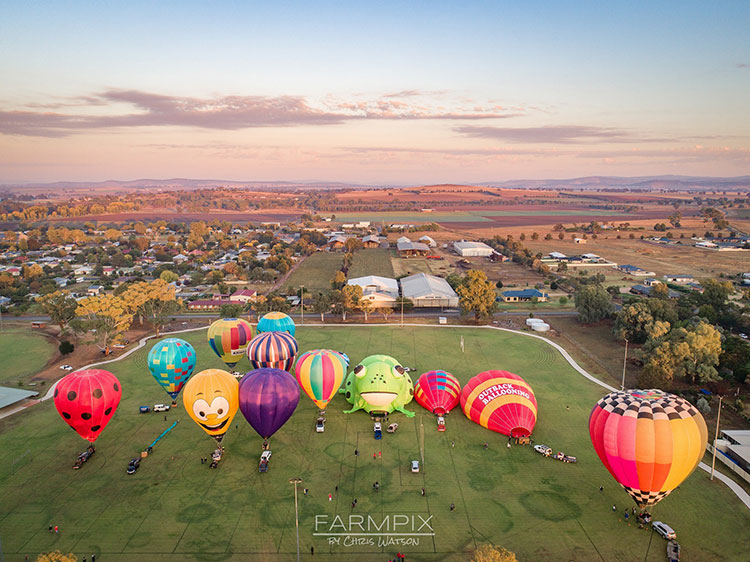 With Easter this weekend, we would normally be on the countdown to Canowindra's favourite week of the year – The Canowindra International Balloon Challenge!
Unfortunately due to the COVID-19 pandemic the Balloon Challenge for 2020 will not go ahead and balloons will not fill the skyline for a week during April.
After Cabonne Council met last week they decided to bail out the Canowindra International Balloon Challenge to the tune of $60,000 so that the new committee will be able to fly high in 2021 and deliver an outstanding event for the region. The $60,000 will be used to pay creditors from the 2019 event which saw a decline in visitors to the headline event the Balloon Glow.
The $60,000 bail out money will come from the Canowindra Town Improvement Reserve to pay the creditors from last year's Canowindra Challenge.
This bail out funding will now enable the town to receive the $1.3m injection into the economy from the event in 2021.
"It's a major economic boost, not just for Canowindra, but for Cabonne and the region," said Cabonne Shire Mayor Cr Kevin Beatty.
"This will be particularly important as the region recovers from the economic downturn of the coronavirus pandemic," said Dale Jones from Cabonne Council.
The new, hard working committee will now have the funding and time to plan for an exceptional event in 2021, we can't wait for April 2021!
By Sarah Maynard