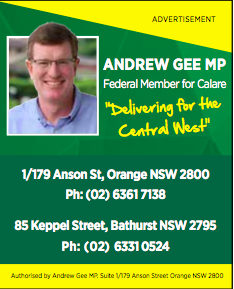 COMMUNITY HAVE THEIR SAY ON THE FUTURE OF ORANA HOUSE
I recently attended the public community meeting about the future of Orana House. Orana House has a long history as a key
community asset for Canowindra. Cabonne Council had expressed an intention to sell Orana House with Canowindra Creative Centre Inc indicating that they wish to purchase the building for the community with the management under a trustee committee.
The meeting provided community members and Orana House user groups with an opportunity to join the conversation regarding the future of the building. It was fantastic to see the community have their say. Orana House definitely has a community-based future in Canowindra. I'd like to thank the Cabonne Councillors who attended the meeting – Greg Treavors, Cheryl Newsom and Jamie Jones.
Given the goodwill that was evident at the meeting I'm confident this important local asset will remain in community hands.
REDUCING POWER PRICES HAS TO BE THE PRIORITY OF GOVERNMENT
I have requested more information from the Government on the details of the proposed new power plan. I've been pretty clear on one point. I delivered it again in Canberra this week: The priority of the government needs to be to bring power prices down. For weeks I've been hearing about how individuals and businesses are suffering under these soaring prices. How did we get here?
This nation has an abundance of natural resources able to deliver cost effective power. I've seen and heard enough. I believe it's time that the Federal Government introduced short-term price controls on power prices. They can stay in place until power companies start doing the right thing and longer term policies start taking effect. Yes, it's drastic and the economic purists will hate it, but I think it's justified. If we want jobs in country Australia strong and decisive action is needed. Right now.