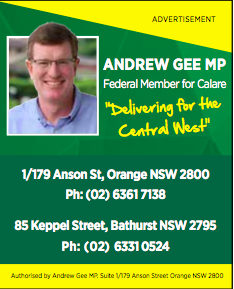 The Treasurer handed down the 2017 Budget on May 9. It's been a really good budget for Calare, country Australia and the nation.
One of the really positive measures in this year's Budget is the new Gonski funding. It's an increase of $18.6 billion over the next ten years for schools right around Australia, including Calare. Schools, in every sector, in every local community in the electorate of Calare will be receiving significant increases in funding because of this needs-based funding model. This is great news for the 111 primary and secondary schools in the electorate, and their 27,362 students. The total increase in Federal Government funding for schools in Calare over the next ten years is $384 million.
I was also delighted to see that $472 million has been allocated for the Regional Growth Fund, which will help to grow our regional infrastructure.
The Inland Rail, was one of the big nation- building projects announced in the Budget and will give our primary producers another option in terms of where they can send their produce to market.
Pensioners are also winners in this year's budget, with almost 100,000 pensioners getting the Pensioners Concession Card. Additionally, an energy supplement of be- tween $75 – $125 will also be made available to help with power bills this winter.
Many people have been asking wheth- er I was expecting funding for the Murray Darling Medical School to be funded in this year's Budget. I have been told that if ap- proval is given for the School, the money is there for it, but not from the medical budget. Rather, it would be drawn from an infrastructure fund which would not appear as a line item in the Budget itself. CSU is still in the process of making its case to the Federal Government for the medical school, and they are to provide further analysis in the coming days. Rest assured, CSU and I are both fighting as hard as we can.