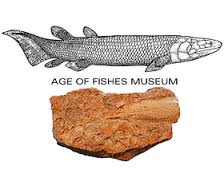 In collaboration between the Age of Fishes Museum and internationally renowned visual artist Craig Walsh, a 3D image of the extinct Devonian fish, Canowindra grossi will be projected from the Swinging Bridge into the Belubula River.
"Devonian Billabong is Alive" involves the recreation of a Devonian billabong in real time 3D, highlighting the unique "world class" Canowindra fossils as they are brought to life. Science Week at the Age of Fishes Museum is entitled "Making Waves, The Science Of Light". Several workshops will be held for
schools and the community showcasing the blending of arts and science.
Everyone is invited to this world first event at 6pm on Monday 17 August at the Belubula River Swinging Bridge where the Canowindra Lions Club will be hosting a sausage sizzle. Also come along to the official launch of the Cowra Cabonne Science Hub at 10am on Wednesday 19 August at the Age of Fishes
Museum. A light morning tea will be provided.