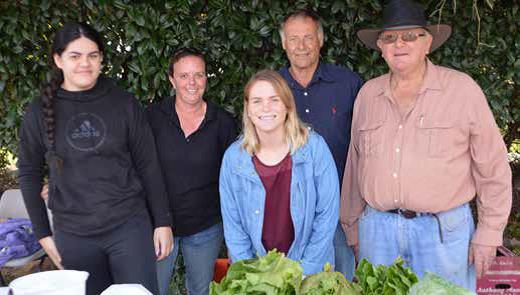 Stacey's Singing School started the morning off musically at the annual Moyne Aged Care Plus Centre Fete on Saturday. Hundreds of people were in attendance with more being brought out thanks to the gorgeous weather. "Everyone is enthusiastic and happy and has been very generous" said Moyne team member Melissa Delaney; "We'd like to sincerely thank all who have donated and participated in some way. The clothing stall has been a big hit this year and is in competition with the veggies and cakes, but healthy competition never goes astray!"
The event included performances from dance troupe, Alikinetic and music from the Orange Salvation Army Band and was a great chance for Moyne residents to mingle with the rest of the community. "I'd also like to personally thank Bruce Wright, who organised
the vegetable stall. The vegetables were donated by local farmers. And the Canowindra Lions Club who do a wonderful job as always. We couldn't have done it without you all" said Melissa. Bruce's veggie stall included humungous pumpkins, cabbages and kale for bargain prices. The money raised from the day will go towards leisure resources and the residents are already thinking of what to spend it on!