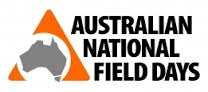 Producers, students and members of the public will all have a chance to brush up on their agricultural knowledge at the 2015 Australian National Field Days in Borenore.
The ANFD event started in 1952 and is Australia's oldest annual agricultural exhibition. Each year over 600 exhibitors from Australia and around the world display their products and services at ANFD. Retired professional staff from the former Department of Agriculture play an important volunteer role in the educational display at the ANFD, located in the Trevor Elliot Pavilion.
These "Old Aggies" as they call themselves have a wealth of agricultural knowledge and experience to share with visitors to the ANFD in the areas of horticulture, agronomy, weed control and livestock.
Producers can look forward to useful information and learning opportunities at ANFD, including a plant identification display with more than 70 weeds and pasture species. The 2015 Australian National Field Days will be held from 22 to 24 October in Borenore.