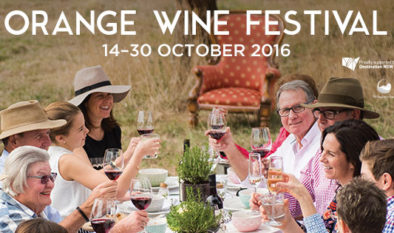 The Orange Wine Festival is just around the corner, taking place from the 14th to 30th October. The Orange Wine Festival is the
region's opportunity to celebrate the thriving wine industry and high-quality cool climate wines that are produced in the region. A two week program with over 90 events including some much loved favourites such as the Orange Wine Show Tasting, Wine in the Vines and the Festival Night Market will be back on the menu in 2016, along with a fantastic range of events run by the producers and restaurateurs. This year the festival introduces two new signature events, The Vino Express & The Finest Drop.
Some of the favourite events and places to visit include Wine Central which is located at Union Bank. This is where you can experience some of the local wines as well as listen to the winemakers. Wine Central should be the first port of call for those looking to investigate and explore all things vinous in the region of Orange.
One of the signature events is the Wine and Food Night Market to be held on Friday 21st October. With over 60 stalls offering award winning wines from the Orange Wine Region, paired with the finest cuisine prepared by clever local chefs and cooks, this is a night not to be missed. Set in Robertson Park, you can relax with your family to some great music, with children catered for by some activities on site.