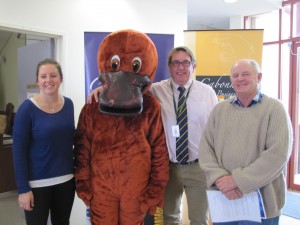 The 2015 Cabonne Daroo Business Awards were launched on Tuesday May 26th, with a $3000 television advertising prize to be awarded to the overall winner. The prize will give the lucky winner an opportunity to promote their business to a wider audience. "It is an amazing prize that reflects how prestigious these awards have become," said Cabonne Councillor Anthony Durkin.
The Daroo Business Awards have been running for 15 years. They are a major event on the regional business calendar and a model for business awards across rural Australia. They recognise achievements and contributions made by Cabonne businesses and their employees. The main objective of the Daroo Business Awards is to raise the profile of companies and organisations in the Cabonne Shire.
Many of the awards have a People's Choice format so customers and clients will get to have a say in which businesses are recognised. The winners will be announced at a gala dinner at the Cudal Hall on Friday 6th November; the event will be hosted by the Cudal community and the Cudal Swimming Club.
Nominations are now open and will close on the 27th of June. After the nominations have been counted, six businesses who receive the most votes per category will move to the Top Six Voting Round.  Nomination forms can be obtained by contacting Hannah Dunlop, Cabonne Council's Community Engagement and Grants Officer on 6392 3267.