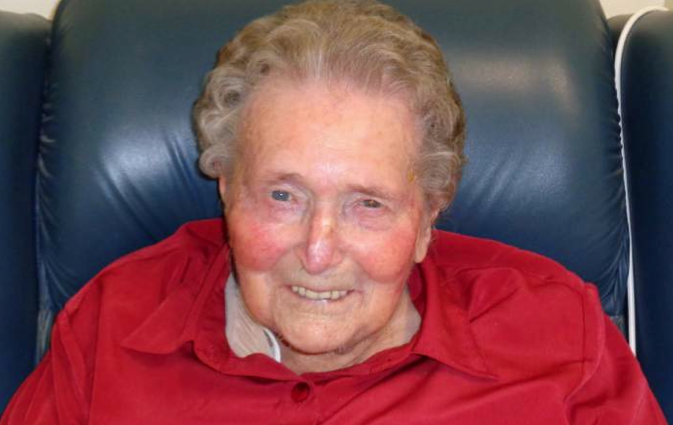 Canowindra local Thelma Scoble (nee Nash) will be celebrating her 100th birthday on 18th May. Born in a small house in Canowindra in 1914, she was the eldest of nine children and spent her early years at Wollombeen, between Canowindra and Cudal.
Thelma recalled her early childhood with thoughts of waking early and having to hand milk five cows, before mounting her horse and riding seven miles to her local school.
When she was being courted by her late husband Ron, she said. "My mother used to roll an apple or orange down our long hall at 10pm and this was the boy's notice that it was time to get on their horse and leave for the evening". Thelma married Ron when she was 26 and went on to spend a wonderful 25 years together.  They had 3 children, Marion, Kay and David, who are all still alive today and are a very important part of Thelma's life. Thelma also has 8 grandchildren and 11 great grandchildren which bring her much joy and love.
Thelma said, "I never went out of the house without having my hair done, make up on and smartly dressed". Thelma was heavily involved in the community and was well known as a fantastic cook and a good organiser. Her cream puffs were legendary and she was not to be beaten at the local show with these delicacies. She also organised catering for weddings, community functions and was president of the Hospital auxiliary and Red Cross and she was Treasurer of the Uniting Church for many years.
When her husband died suddenly Thelma decided to take over the lead role in their business which at the time was called Farm Supplies Canowindra, the now local CRT franchise.    Her organisational skills came to the fore, and she was one of six businesses in Canowindra and the first women who began Combined Rural Traders (CRT). Thelma went onto say "My life is all about family and my strong Christian faith and church attendance, and having the respect of your family and friends."
She believes that she has made it to her 100th year by not smoking or drinking and always working hard.    For her 100th Birthday she will be joined by many family and friends to celebrate this wonderful milestone.
We wish this loved and respected lady a very Happy Birthday.
By Mel Stanbury