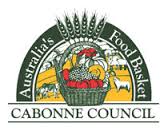 "We will be undertaking 79 individual projects in Canowindra, Cargo, Cudal, Cumnock, Eugowra, Manildra, Molong, Mullion Creek and Yeoval which were requested by the residents of those towns and villages," Cr Kevin Beatty said.
Cr Beatty said the Village Enhancement Program (VEP) was initiated following an extensive consultation process. "We asked
local progress associations to suggest projects for their towns and villages and then we called on residents throughout the Shire to tell us what they wanted," Cr Beatty said.
"The response was amazing, with 200 projects put forward. Council staff then assessed and costed those suggestions before coming up with the final short list approved by councillors."
Cr Beatty said the original concept of the VEP was to beautify towns and villages and encourage tourism. Key projects to be implemented in some of the villages include:
Canowindra: Cemetery enhancements; new plantings in Morris and Memorial Parks; caravan park precinct landscaping; Blue Jacket Lookout realignment and improvements; updated town entrance and directional signage; new plantings in Gaskill Street; lighting in lane behind IGA; additional seating and garbage bins in Gaskill Street; visual improvements at corner of Ferguson and Tilga Streets.
Cargo: Electronic scoreboard new LED lights, cabling and upgraded power board at oval; upgraded playground shade structure; new garden bed between street and parking bay; additional play equipment for children over 10 years; drinking fountain.
Cudal: Cudal Pool tables and chairs, barbecue, picnic table and shade cover; oval canteen renovations and new appliances; oval watering system; sports field seating; Cudal Hall external wall refurbishment to match existing walls; cemetery improvements.
Eugowra: Reconstruction of Pye Street, access mobility footpath near St Joseph's School to Noble Street; Nanima Street median garden.
In addition to these improvements, major tree planting programs will be undertaken in each town and village and further funding
will be allocated to each town and village for general tidy up work.